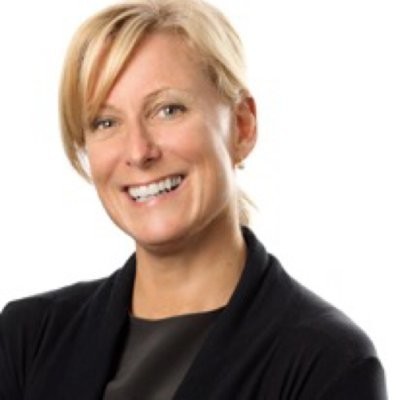 There is an abundance of material out there that tells you how you can grow. From ads to marketing to salespeople, to spend money to make money, to growth at all costs, there are a lot of ideas out there about how to grow. However, there are not as many resources that talk about what Katie McLean's company, TuskHub, focusses on: sustainable growth.
While the other growth strategies are all valid and have their place, what I found refreshing about my conversation with Katie was that she had a genuine approach to helping companies grow. It was the 'we thrive when you thrive' approach that I really enjoyed.
All this knowledge didn't accumulate overnight. Katie has over 25 years of experience in the technology and sales space. She has worked at Xerox, Oracle, and Google, and has had a few of her own companies as well. She started her first company, and I'm sure you will be surprised by what she did, while in university, which helped her pay for school.
Katie has done a lot of interesting things outside of her professional life, including running marathons and raising money for cancer research. Through all of these experiences Katie has learned many strategies and techniques that lead to sustainable growth, and has kindly shared many of her learnings with us.
We cover a lot here so we are actually breaking down this interview into two parts. Part two will come out next week, so stay tuned for it!
I have broken down the different sections of our conversation. Feel free to jump around or read top to bottom.
Article sections:
Getting Started
Back to Business
Jumping into the startup world
Getting Started
"I grew up with a father who was an entrepreneur and our life was pretty interesting", said Katie. "[Things] weren't that stable, so [I wanted] stability after graduating from university".
Right after graduation, Katie landed a job at Xerox. This was back when Xerox Park was one of the places to be in the technology industry. This was famously where Steve Jobs found out about the graphical user interface which played a major role in Apple's Macintosh. So being at Xerox at that time would be very exciting.
"At the time Xerox was the best place to learn how to sell," said Katie. Selling is one of the most important parts of any business. Even though Katie didn't know what she wanted to do, she understood that learning how to sell was a transferable skill that would always serve her well.
She got the Xerox interview through a friend (again networking is important), but says her unique experience got her through the interview process. Her experience was that she had created and sold a product while in university, though not something you might expect.
Often when I speak with CEOs and entrepreneurs in a given field, I sometimes assume they started their career building a product remotely related to the field they are in. That was not the case with Katie.
"They were hosting the International Plowing Match in the town I was in, and I decided to make souvenir buttons [for the event]. My dad said I should get pre orders for everything. So I drove around all the towns [in the area] and got preorders," said Katie, as I look perplexed at what the International Plowing Match was. Turns out it is North America's largest agriculture and rural expo.
Her souvenir buttons were so well received by her first customers that everyone at the expo was talking about them and Katie actually received a call from the expo telling her that she could have a table for free if she just sold her buttons that everyone wanted. So she did.
"We sold right out of them, and I earned enough to pay for university that year. Then I took it to the next level the next year. I made more souvenirs."
Anyone who can make a business selling souvenirs would probably do just fine selling photocopy machines, and it was this story that ultimately landed Katie the Xerox job.
Katie received excellent sales training when she started. "When you left [the training] you were convinced that … you would for sure sell the product. I was crushed when it didn't always work," Katie chuckled. After a few years of selling printers and fax machines in northern Ontario, Katie wanted to move to a bigger city.
She landed in Toronto and began working with Digital Equipment Corporation (DEC). Now, DEC was a company that did impressive work; they invented the PDP computer. "[DEC] was where I really learned about technology and partnering," said Katie.
Soon after, Katie got hired by Oracle and started climbing within the company. However, around this point Katie decided to focus on her family and raising her four kids and took a 15 year hiatus from the business world.
I want to take a second to recognize how impressive this is. Getting experience at Xerox to DEC to Oracle at that time would be somewhat equivalent to going from Microsoft to Apple to Facebook. Not a direct parallel, but hopefully it illustrates that Katie was making inroads with some strong companies.
Having strong priorities and principles for what you want out of life can make other decisions seem so small and simple. It was those priorities and principles that allowed Katie to happily step away from the corporate world and focus on her family.
"In the meantime I did other things, [because] I still like setting and achieving goals," Katie said. Here is a brief list of some of her accomplishments during her time away from the corporate world:
Ran a dozen marathons
Completed three Ironmans
Raised over $1 million for cancer research
Started a few small companies
Completing any of those tasks while raising a family would be impressive, doing all four is just awesome.
Back to Business
As I spoke with Katie, there was a list of about 30 books stacked in her bookshelf behind her that she says she excessively reads. One of those books was "How Google Works" and when she read it she said, "I want to work there".
She remembered using Google Search way back in 1999 and loved how the product empowered people. She ended up joining the company in 2016 and working remote in a sales role. She recalls loving her first week at Google, which is called Onboarding week. That's where Katie got to learn more about how people at Google think and what the Google culture is all about.
Katie had the responsibility of getting more businesses in Western Canada to use Google's G-Suite and Cloud products. "Everyone wants to talk to Google, but not everyone wants to adopt the products," Katie said when speaking about the beginning of her Google career. However, what Katie realized was that the best way to get organizations to adopt Google products was to look at it from the perspective of matching company cultures.
"I was already obsessed with culture. So then I started to see the people who are ready to adopt cloud technology, [and many of them were] companies in Vancouver. I then identified that ATB Financial [was] a culture match. However, that ended up being nothing about the Google product [compared to the] transformation ATB wanted. They wanted to be like Google. The transformation didn't happen through IT, it happened through the C-suite. That was when the lightbulb went on, when I found out what I believed was true was actually true."
That is pretty incredible. Getting a bank to make a big change can be difficult, but Katie's sales experience, and passion to understand cultures allowed her to frame the value proposition to ATB in a way that was too good to pass up. Of course, the product she was selling had to meet the needs of what ATB required. However, oftentimes, companies can build a product. Getting people to use it is a whole other feat.
Katie realized many companies want to be like Google, an innovator, a disruptor, a game changer. By showing the right people (the C-suite) how using Google products could allow them to integrate part of the Google culture into their own business, she was able to connect on a level that ended up making the sale happen.
Remember, it is people that make decisions, not some omniscient corporation. Finding the right people in the organization and showing them the strong reasons why whatever you have will help them and their company is crucial to getting their company to use your product or service. Katie illustrated a fascinating, genuine, and effective way of how this can be done.

Jumping into the startup world
When Katie left Google a few years later, she started a consulting company and worked with startups. She helped startups share their purpose and their why, with the intention of helping them land their first big client and then helping them grow their community.
It worked, quite spectacularly. She worked with one company for a few years and helped them get to their first million dollars in revenue. She then stopped working with them to focus more on her company, TuskHub, that spun out of her experience working with the startup.
TuskHub's goal is to generate sustainable growth through purpose. "I like the idea of companies putting purpose before revenue," Katie said. So far, it is still early days (they started in January 2020), but that is what they are doing. They have already worked with some companies and have helped them land their first big clients.
We at Compound Confidence are working a bit with TuskHub as well. They have been awesome and have connected us with people who we never would have gotten the chance to speak with otherwise. Anyone who has started their own company and is looking for people who can help them grow, definitely check out TuskHub.
"I'm intrigued by the gig economy, [especially] having control of your time and energy" Katie said when building up to her vision of how TuskHub can fit nicely in it.
"The idea around TuskHub is attracting a whole bunch of like minded people as independent consultants that work with TuskHub. We have partnered with a company to create a platform that allows us to match up teams. Traditionally, independent consults do not find it as easy to be on a team. We can match up dream teams [based on a variety of data]. That's the future … but for now we are bringing in consultants [more manually] and getting them onto projects."
So that is where TuskHub stands for now. In the future it will be more of a platform for consults to be teamed up and matched to a given project, but for now Katie and her team are providing growth services and other services themselves.
Stay tuned for part 2
I just wanted to say thank you to Katie for her time. She has done a lot of impressive work and I am excited to see what her and TuskHub have in store. We got to talk about a few more interesting topics during our conversation and I gained fantastic insights from Katie about entrepreneurship.
That's why we've decided to make another article that dives deeper into how Katie's business has been succeeding during the pandemic.
If you enjoyed this article and are keen to learn more, then please check out part 2 of the article next week!
Want to grow your wealth sustainably?
Sustainable growth is healthy to have in many areas of your life, including your finances. Developing a multiyear financial strategy and having the temperament to execute it takes time and practice. We are giving people the skills to do just that through our personal finance course. If you have an hour to check out our free course, that would be awesome. Hopefully, we will help you achieve your financial goals.