Photo By Nick Chong on Unsplash
This article is more for our Canadian readers, but all other readers are welcome to read it as well! Have you ever wondered what are the advantages and disadvantages of trading in Canadian vs American stock markets and how this differs depending on which investing account you use?
Well, the purpose of today's article is to look at the potential tax implication when investing in either Canadian or American stocks with different investing accounts. We are not going to dive too deep into the detail here, if you are interested in learning more about the inner workings of each of these accounts, feel free to check out our course which covers these topics in more depth.
However, we thought it would be a good topic to cover since this summer there has been an abundance of people who have started investing this summer during the pandemic. We are not here to give advice on what to invest in, rather we want to bring up an important topic new investors might not have at the top of mind: taxes. When Canadians invest in the US, not only do you have worry about currency conversion (since you are buying US stocks in US dollars), there are also tax implications as well.
All of this adds up to mean that you might not make as much money as you initially think. Having invested in the US markets ourselves, we know first hand this can be tricky. Overall, we recommend speaking with a certified account or using online tax services when filing your taxes to figure out exactly what your invest taxes are. That being said, it is important to have a basic understanding of this topic if you plan to invest in the US so that you are not blindsided later on.
Alright, let's dive in. The three accounts that we will be looking at are the Cash Account, RRSP, and TFSA.
Cash account, RRSP, and TFSA Review
Let's to do a quick review of each of these accounts. A Cash Account is simply an account that can be used for short- and long-term investing. With a cash account, you can invest in stocks, mutual funds, fixed income, and ETFs. Additionally, you can invest in both the Canadian and US markets, as well as with both currencies.
The Registered Retirement Savings Plan (RRSP) is designed for long term investments. While there is a limit to how much you can contribute to this account each year, there are tax benefits to using this account, with the main one being your investment income is tax deferred. The Tax-Free Savings Account (TFSA) is another investment account designed for long-term savings. The TFSA also has tax benefits associated with it, with the main one being you don't pay taxes on capital gains.
If you feel like you want to learn more about these accounts, check out our course or feel free to do some research about these accounts on your own. (We cover more accounts in our course as well.)
It is important to know that different investing accounts follow different rules and have different tax implications. Therefore, we think it is important to discuss how these accounts differ when it comes to tax season for your US investment. Let's reiterate this: please do further research for your particular situation. These rules and regulations could change and could change slightly depend on your exact scenario. However, we still want to break things down simply so that you can be an informed Canadian investor who invests in US stocks.
United States – Canada Income Tax Treaty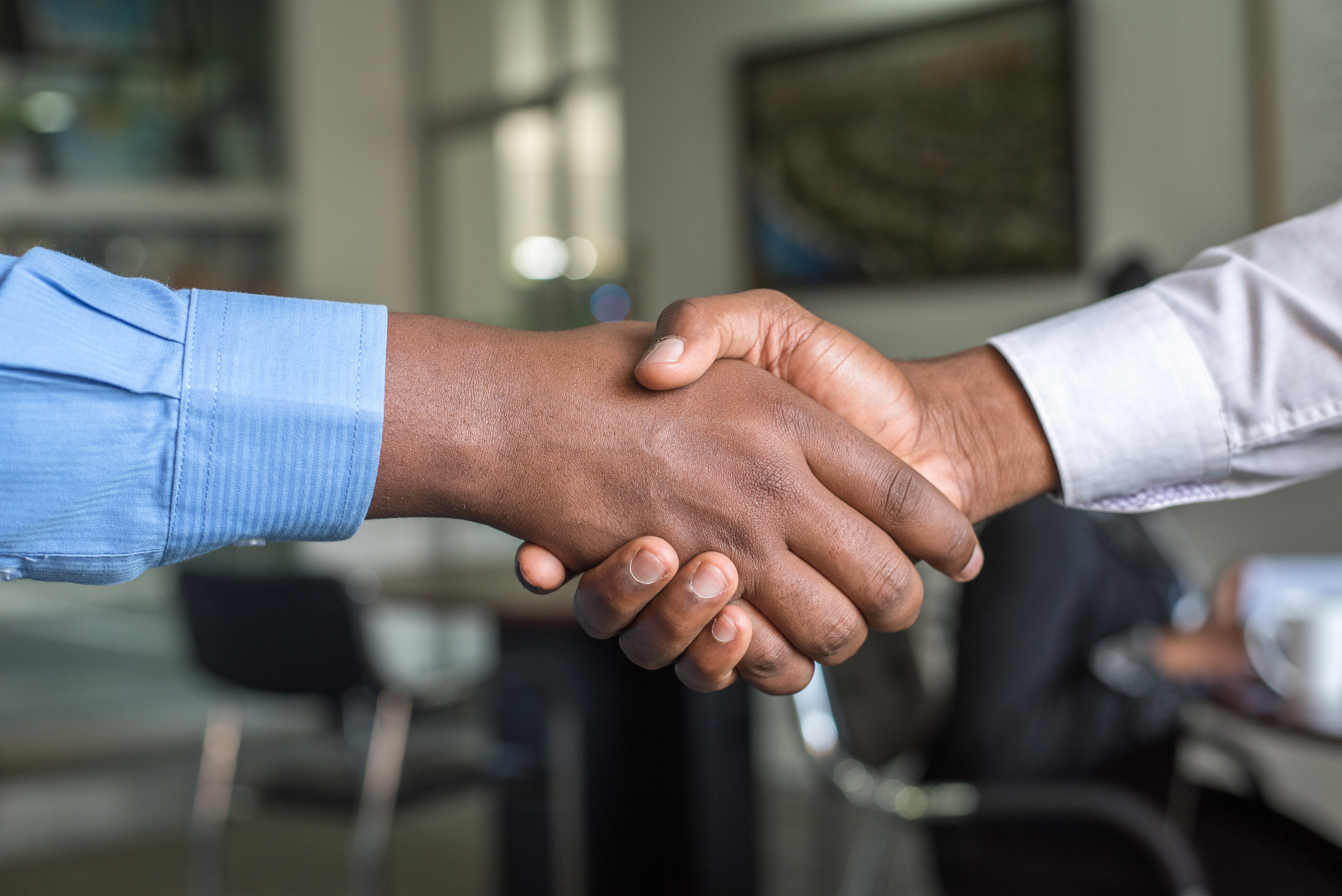 Photo By Cytonn Photography on Unsplash
One of the things that makes investing in the American Stock market different for Canadians, compared to other people investing in the US stock market or Canadians investing in other stock markets, is the United States – Canada Income Tax Treaty. The treaty essentially reduces the amount of withholding taxes that Canadians must pay on the money they earn in the US market – 15% withholding tax on interest and dividend income.
This is significantly less than 30% flat rate that US non-residents generally pay. To qualify for 15% withholding tax rate, you need proper documentation. According to RBC Wealth Management Services, the form that is required is the IRS Form W-8BEN Certificate of Foreign Status of Beneficial Owner for United States Tax Withholding.
Now things start to get a bit more interesting when we look at which accounts this preferential withholding tax rate applies to. Let's look at how the United States – Canada Income Tax Treaty applies to different accounts.
Registered vs. Non-Registered Investment Accounts
According to National Bank: "Government-registered plans and accounts, like RRSPs, TFSAs and RESPs, let you grow your savings tax-free. Non-registered accounts offer no financial incentives but allow for much more flexibility."
Of the three accounts we have talked about, two of the are registered accounts and one is non-registered:
TFSA - Registered
RRSP - Registered
Cash Investing Account - Non-registered
A registered account means the account is given tax-advantages and incentives. Now, while there are tax advantages, they differ when making US investments. The table below summarizes the key differences at the time of writing between these accounts.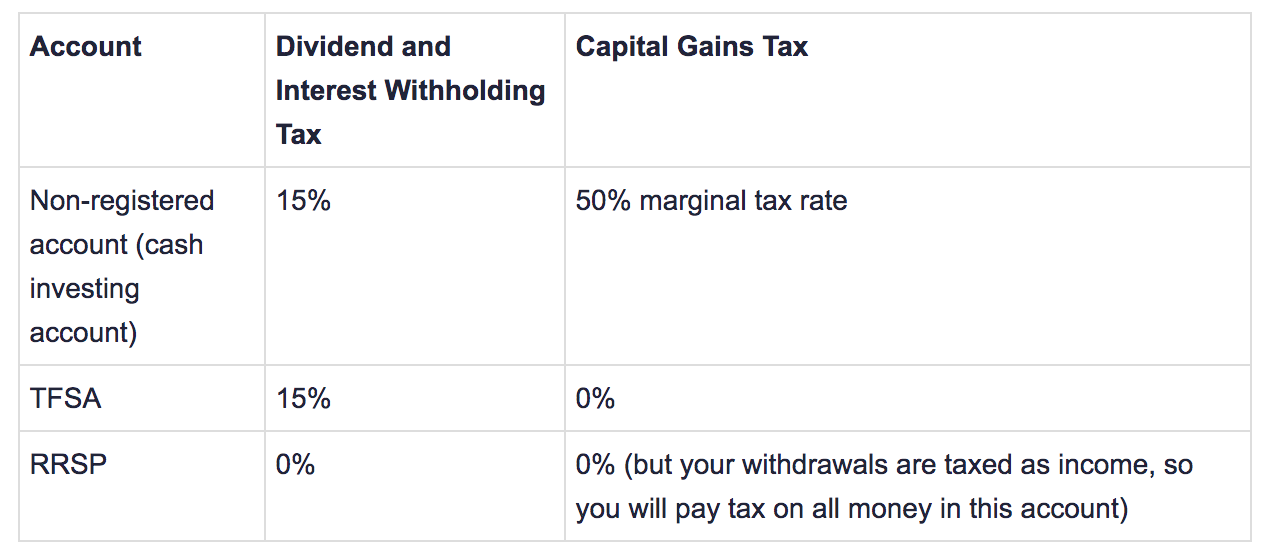 * The above table is the situation at time of writing (September 2020), this could change in the future.
The references that helped us put together this table can be found here: [1], [2], [3], [4]
This article just scratches the surface of rules and regulations that surround investing in publicly traded companies in the US. I would highly recommend conducting your own research to get a better grasp of the concepts that we have looked at in this blog.
We understand this is a bit of a complicated topic and hope this article breaks things down simply so that you can walkaway with a better understanding of the major tax implications for a Canadian investing in publicly traded US companies.

Aside
If you enjoyed this article and would like to learn more about personal finance, consider checking out our free course.